Point Venus
Portrait of an Island

Norfolk Island, 'a place fit only for angels and eagles', is one of the most remote locations in Oceania. It lies one thousand miles north-east of Sydney across the Tasman Sea. In the nineteenth century, this lonely paradise became a hellish prison for convicts transported from Britain and later home to the descendants of the Bounty mutineers. Paul Seagrave, an unstable young concert pianist, has abandoned his promising career after a nervous breakdown and fled there from the Australian mainland to recuperate.

Point Venus is a complex blend of historical novel and modern drama, a tale of two forbidden loves. Paul experiences a lyrically erotic relationship with the mysterious island woman Mareva, a descendant of the mutineers, acted out amidst the lush scenery. Later he discovers a secret journal kept by Paulina, the cultured wife of a brutal Commandant of the penal station in the nineteenth century. He reads of her breathless passion for a young Polish cavalry officer stationed at the military garrison - an affair painfully conducted in the shadow of the gallows. In this interwoven story, the menace of the days of cruelty and degradation are finely balanced against the sensuality and innocence of contemporary island life.


| | |
| --- | --- |
| | |
| | |
| | Philip and Nepean Islands from a cliff walking track, Norfolk Island © Michael Moran |
Point Venus is a meticulously researched and powerful narrative. With its structure inspired by the pagan mysteries of love depicted in the Renaissance painting Primavera by Botticelli, this intense novel transports the reader to an exotic realm of seductive yet sinister beauty.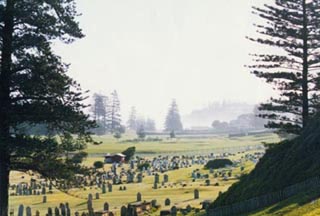 The colonial era cemetery from Cemetery Bay, Kingston, Norfolk Island © Michael Moran